Welcome to the Paradise!
Nestled in the Indian Ocean and surrounded by exotic beauty, Sri Lanka is known to many as the Pearl of the Orient – and is a true Paradise on Earth! With beautiful golden beaches, splendid landscapes and jungles, as well as important cultural and historical sites, this picturesque island provides an abundant source of attractions.
This is fast becoming one of the world's most loved tourist destinations and offers visitors many recreational activities including Ayurveda and meditation centers for rest and relaxation. Rejuvenate your mind, body, and soul as you unravel the mysteries of this resplendent isle – a holiday you will remember for the rest of your life!
Travel with us to explore new horizons on a Tropical Island where you can see spectacular waterfalls, leopards, and elephants roaming in thick jungles, as well as some of the best beaches on the planet. Be welcomed by smiling faces and the best hospitality ever. SkyHaven Tours is ready to fulfill your leisure travel requirements by ensuring a unique and awesome holiday!
Good to Know
| | |
| --- | --- |
| Country | Located in South Asia, with a Tropical Monsoon Climate. |
| Religions | Buddhism,Hindu,Muslim and Christian |
| Languages Spoken | Sinhala,Tamil & English |
| Currency | Sri Lankan Rupee (LKR) |
| Area (km2) | 65,610 km² |
Things to do with Kids in Sri Lanka
Sri Lanka is a wonderful destination for families. This little island seemingly has it all with something to offer every family whether you're looking for culture, wildlife, adventure or just a week or two soaking up the sunshine on some of Asia's best beaches.
Little kids will love the palm-fringed beaches and calm, swimmable waters, and will delight at the numerous turtle sanctuaries on the south coast. For big kids and teens, Sri Lanka is activity heaven, from diving, snorkelling, water skiing and surfing (plus kite surfing) on the coast to white water rafting, abseiling and mountain biking in the hill country. And for parents there's everything you could possibly hope for in a family holiday destination – action, adventure, culture, history, relaxation, great food and the chance to create some incredible memories with your kids.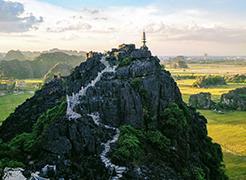 Welcome to the Island of love!
Sri Lanka is a little island filled with magic. That is why this tropical paradise is a highly sought after honeymoon destination, for lovers from across the world.
Fall in love all over again while lying on one of our white sandy beaches or while cuddling with a hot cup of tea in the central highlands of Sri Lanka. You can't go wrong at one of the ultimate destinations for honeymooners with endless opportunitiess for that perfect honeymoon vacation. So why not choose Sri Lanka for your romantic getaway as newlyweds, starting your lives together, or as lovers in search of some quiet time. For whichever reason you have come to the right place!
SkyHaven Tours Sri Lanka Would be delighted to organize your honeymoon or wedding!
Some of the World's Best Cultural Heritage Sites
Sri Lanka comprises 8 of the world heritage sites, which are the sacred city of Anuradhapura, the ancient city of Polonnaruva, the hill capital Kandy, the golden rock temple of Dambulla, the Dutch fort of Galle, the rock fortress of Sigiriya, the Singharaja rain forest, and the magnificent Horton plains. Other than these major popular sites, the country contains numerous heritage sites that are sought-after by tourists
The Adventure Lover
Due to differing climate conditions and geography, this island is a perfect destination for sports tourism. Whether it is for diving, canoeing, cycling or rock climbing; Sri Lanka provides ideal locations for sports lovers, which cater to their dynamic requirements.
Glance of an Island filled with Excitement of Adventure,Golden Beaches, Wild Life,Ancient Ruins, & Rich Culture Awaiting to be Explored by You!